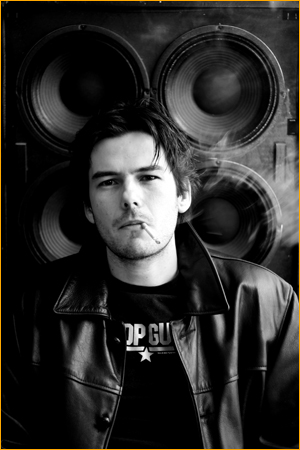 Mario Couture

Bass
Né à Sorel 1979, Mario a commencé à l'âge de 14 ans l'apprentissage de la basse électrique sous la tutelle de Gilles Nault, Bachelier en Contrebasse Classique de l'Université McGill. C'est avec cette enseignement qu'il fait ses premiers pas dans le monde du blues en compagnie de Carl et Rosy.

En parallèle, il découvre le monde du jazz avec un second professeur, Guy Boisvert, du cégep de Drummondville. Il développe ainsi son jeu et y inclus des bases jazz et funk qui lui serviront à solidifier son jeu rythmique et mélodique. Fort de ces précieux enseignements, Mario travaille maintenant à élargir ses horizons en écoutant et étudiant les grands bassistes qui ont formés l'histoire de la basse électrique depuis les années 50 jusqu'à aujourd'hui. Jaco Pastorius, Rocco Prestia et Les Claypool demeurent à ce jour ses plus importantes influences.

Son cheminement musical l'a amené vers différentes facettes de la musique: le rock, le jazz, le classique, la musique rétro et le funk. Le souci de versatilité est la motivation derrière toutes ces démarches musicale. Il accompagne à l'occasion et dans divers festivals d'été une foule d'artiste issus de la génération 60 qui s'ont encore actifs à ce jour. Il accompagne entre autre: Patrick Zabé, Guy Harvey des Gendarmes, Simon des Lutins, Jenny Rock, Maxime Farago, Claire Lepage, Eddy Roy des Bélairs et Jacques Salvail. Il a aussi jouer avec Feu Dino L'espérance de César et les Romains. Tout ces artistes l'ont amené à se produire à maintes endroits au Québec et devant des foules importantes dans des festivals d'été populaire.

Enfant de l'ère électronique, il produit aussi les affiches, site web et photos qui meuble le dossier de presse du Rosy Blues Band.

Born in Sorel in 1979, Mario start his musical journey with his first teacher, Gilles Nault, a McGill's University Alumni, by the age of 14. It's with this teaching and with his friend Carl and Rosy that he enters the wide world of blues.

In the other side, he discover the jazz world with a second teacher, Guy Boisvert, at the Drummondville' s Cegep. He build his playing and included jazz and funk skills that strenghtened his rythmic and melodic approach to electric bass. With this newly acquired skills, Mario now work on widening his musical horizon by listening et studying master bassist that build the bass' history since the '50 until today. Jaco Pastorius, Rocco Prestia and Les Claypool are still his most notorious influences.

His musical path brings him to differents sides of music: rock, jazz, classical, retro and funk. Versatilbiity is his motivation behind his musical steps. In summer festivals, he occasionnaly team up with '60s artists who are still active this days. We can find him playing for: Patrick Zabé, Guy Harvey of the Gendarmes, Simon of the Lutins, Jenny Rock, Maxime Farago, Claire Lepage, Eddy Roy of the Belairs and Jacques Salvail. He also played with the now deceaded Dino L'Espérance of the Cesar et les romains. All those artists bring Mario to play in many place in Québec and in front of important crowd in popular summer festivals.

Child of the electronic era, Mario also produce all the posters, web site and pictures that create the press kit of the Rosy Blues Band.